Childrens Books on Death - Are They Really Necessary?


Whether a child is dealing with the death of a pet or loss of a best friend, childrens books on death often help kids cope with their grief and loss.
Explaining death to young children is a sensitive matter.
Being honest with children and encouraging them to ask questions is good advice, according to Kids Health for Parents.
Helping kids feel safe to express their feelings, whatever they are, is important so kids know that w hatever they are feeling is OK.
Childrens books on death can sometimes open up avenues of communication between children and their parents.
Obviously, coping with death for most of us and dealing with the grief that accompanies the loss of a close friend or family member can be challenging.
Typically, men have been taught to be strong and to hide their feelings. But men who participate in explaining death to children have the chance to show their children their own vulnerable, softer side.
In times of grief and loss, and children coping with death, the heart rules. Men can definitely empower their kids in their manner of explaining death to children.
In eastern countries, death is a natural part of life. People believe they have a soul and that their soul lives on even while their body dies.
In the USA, many people are afraid to talk about death, especially their own death.
Yet, death is one of the few certainties we all experience in life. The more we understand it, the better prepared we are for it.
What are we afraid of in not talking about death? As 9/11 showed the US population, death comes unasked for, unannounced, unplanned.
Here's some rhyming words that are appropriate from HeartMinders: Spiritual Lightposts Reminding Your Heart to Love, a book I wrote a few years ago.
Death Arrives Unannounced
Remembering that death
comes in a wink of an eye,
empowers your spirit
to soar high in the sky.

Death can come
when you're sound asleep,
when you're working or praying
or feeding your sheep.

Death can be sly, it might trick you blind;
consider your life precious,
be loving and kind.

Make your life authentic;
so before you die,
you don't look in the mirror,
and begin to cry.

Since you know not when
your end time is here,
follow your heart;
love those who are near.

Many people from other parts of the world face war daily. They know their end time can arrive at any moment.
And children in these countries see death all around them.
From my perspective, explaining death to children, speaking about death to children, childrens books on death and ...
Childrens Books that Help Kids
deal with death play an important role in child development.

An excellent site gives an extensive list of childrens books on death and dying.

These are childrens books that help children cope with death and grief.

An important aspect to helping your child deal with the loss of a friend, in pet or human form, is to remember that we are each unique children of a Loving Creator.

There is no right or wrong way to grieve, there are no right or wrong feelings, we each, whether child or adult, must experience the stages of grief to heal.

What is important is helping kids feel safe to share their feelings, to express their
sadness,
anger ,
confusion,
disappointment, or
whatever they are experiencing.
Online childrens books on death might offer worksheets explaining death to children, and maybe even writing exercises where children can deal with their grief.
What is important in writing childrens books on death is that the words for writing childrens books be appropriate for the age of the children to read each book.
Grief and Children
There are stages of grief in children just as there are stages of grief in adults.

The more each parent understands the stage of grief her child is in, the easier communication is and the more the parent can help out.

A further look at grief and children has a chart with the different age ranges and what behaviors change as children experience a death.

Beginning at age 9 and older, children begin understanding that everyone will die, including them. They understand death is a part of life that cannot be changed.

The childrens books on death you introduce to and share with your children at this stage can have a lifetime impact.

A childrens book that deals with death came to me during the Christmas holidays in 2002. It's an inspirational Christmas story called A Christmas Gift from Santa Maria.

ATTN Visitors: I feel to the core of my being that from time to time I am gifted with childrens books, that a source outside myself makes me receptive to write the story down but that it's not really me writing it down.

This actually is a great benefit because I don't get wrapped up in thinking what a great writer I am. I give credit to the Universe, being very grateful and thankful for the gift.

A Christmas Gift from Santa Maria is a book that arrived unexpected, unasked for, unanticipated.

I was recovering from a cold, my step daughter was visiting my wife and I in our Baja, California home moments from the Pacific Ocean in beautiful Todos Santos.

As my wife Lili and step daughter Mira enjoyed the holidays, I spent most of it in bed. Two days after Christmas, while lying there, A Christmas Gift from Santa Maria arrived.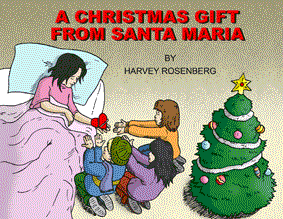 It's about how one family deals with the illness of their 13 year old daughter and how their views on death change.
This childrens book on death has received rave reviews. Here are the first 10



sample pages of A Christmas Gift from Santa Maria.

For more information or to purchase A Christmas Gift from Santa Maria.
Death = Grief & Loss: Need Childrens Books on Death
What childrens books about death that help children do you know? Share one and tell us how it's helped a child cope.
What Other Visitors Have Said
Click below to see contributions from other visitors to this page...

My Liddle Buddy Jake Not rated yet
This is an ideal book for discussing death and loss with young children. The illustrations are cheerful and appealing and the boys' faces are very expressive. …