Meaning of the Christmas Wreath - Spiritual Uplifting of Our Whole Being
I never thought about what the meaning of the Christmas wreath is, where it originated, how it relates to Christmas and the true meaning of Christmas.
Boy, was I surprised when I started researching the meaning of the Christmas wreath. I always thought they were just a pretty ornament for the holiday season. I was entirely wrong!
Here's a simple article that summarizes the essence of what the Christmas wreath signifies:
eternity,
everlasting life,
growth,
Jesus's blood and the
circle of life that is forever.
Since the circle has no beginning and no end, many believe it represents God's love for us, which has no beginning and no end. In other words, God loves us through thick and thin, regardless of what daily challenges we happen to be struggling through.
Who else can love us with no strings attached, wanting nothing from us except to Love Thy neighbor as Thyself and To love God with all your heart and mind?
The holly branches have red berries and red thorns. The thorns represent the "thorn on Jesus' crown" while the berries show the blood Jesus shed for us when he was crucified.
Evergreens are used in the Christmas wreath and live through winter, which some people say shows the strength of life.
Others say that the evergreen stays green all year round and represents hope that we all need to live as joyously as possible.
Knowing just a little about the meaning of the Christmas wreath helps us understand and better remember the true meaning of Christmas.
It's amazing to think how much significance is represented in the meaning of Christmas symbols like the wreath.
How does knowing about Christmas wreaths empower children?
The purpose of Childrens Educational Books is Inspiration Empowering Children, to nurture kid's hearts as well as to feed their minds.
Learning about wreaths allows kids from backgrounds and cultures who, like me, know nothing about wreaths, to learn a little, and thus open their horizons.
The Meaning of Christmas - A Season of Love that Warms the Heart
Here's a very touching and heart warming short story (very short) about the meaning of Christmas.
The message i get from the story is that we need to remind ourselves of what's really important in life, is it stuff or the caring for our hearts?
Is it trusting that God always has our best interests at heart even when things don't go the way we wish?
In my book A Christmas Gift from Santa Maria, for children ages 10 and older, I deal with the real meaning of Christmas. The story concerns a family and how each member responds to the life threatening illness of the 13 year old daughter Maria.
Sample pages from A Christmas Gift from Santa Maria. The book also comes with a Unit Study Helping Children with Grief and Loss.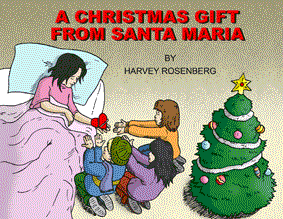 For more information about A Christmas Gift from Santa Maria, read some inspirational Christmas stories.

Did you enjoy the sample pages?
Here's where to purchase A Christmas Gift from Santa Maria: Holiday Special, 2 for 1
---
Return to Home Page
The information on Meaning of the Christmas Wreath belongs to Childrens Educational Books.
Kindly treat us as you would family and friends. Thank you. Gratefully, Harvey