About Me: Who Is This Creative Maverick Serving Up Childrens Books?
Hi my name is Harvey Rosenberg aka The Creative Maverick. Here's me as a budding storyteller while living in Las Cruces, NM.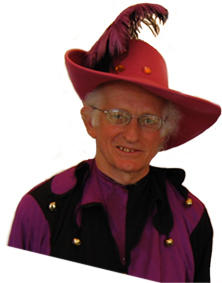 I love life!
I've traveled and lived on 4 continents, 12 US states, and between 20 -35 small towns and a few big cities.
My favorite countries are India, Mexico, Canada, the USA, Sweden, Spain (though I'm sure they'll be more in days ahead).
Swimming in warm waters and snorkeling are great joys, there's an entire world beneath the surface of the ocean that is surreal.
I love helping people find solutions to nagging problems.
I do a lot of research and reading, then try to use what works to make my life better.
I founded Children's Educational Books on July 20, 2008 as a way to share my lifelong passion for learning and writing.

In 2007, after my wife passed on (no sympathy please, she was ready to depart the earth plane), I celebrated life in Sandpoint, ID.
Sandpoint is a mountainous town with a 40 mile long lake that provided releif from the scorching deserts of New Mexico, where we had moved to heal my wife.
She had suffered from Hepatits C and cirrhosis of the liver the 10 years we were together. Hard enough putting up with me, never mind her life-treatening illness.
After having a great summer in Idaho, swimming daily in Lake Pend O'reille, I moved back to Connecticut to care for my aging mom.
No one else in the family could do so and since she's been a good mom, I figured why not do something good with my life.

Turns out mom needs less support than we first thought. That has given me time to launch my business using a system I'd been playing with as a hobby for many, many years.
Many people love Solo Build It. The company held a contest in 2006 for the best videos of Why I Love Solo Build It as we were just learning about the power of online videos.
I bought a camera, wrote a script, and won an Honorable Mention. See it at YouTube.
I'm a grateful camper who considers inspiring books among his closest friends. I know you might be thinking, "Can I trust a guy whose close friends are books?"
Well, yes!
Do you ever feel you need a boost, something to re-awaken your passion or your joy or gratefulness?
I pick up Attitudes of Gratitude when I need a gratitude energizer.
I skim through The Lazy Person's Guide to Success when I'm doubting that my creativity is my most valuable asset.
I read a few lines of Hafiz if I'm worrying too much:

FIND A BETTER JOB
Now
That All your worry
Has proved such a
Unlucrative
Business,
Why
Not Find a Better
Job.
I love people too!
In fact, that's why I'm creating this site. I've learned so much that can serve young people that I feel inspired to share.
Many stories just come to me, and these I turn into books.
You know it's next to impossible to earn a livelihood as an author, yet with Solo Build It, I have a much greater opportunity.
That's what I'm doing, sharing my passion.
I add to this page regularly, it's far from complete (come back to visit).
ATTN: I love providing free information, resources and products that are useful to you.
To help the site grow in a way that you would like, I invite you to tell me your preferences in the boxes below.
Thank you for your feedback. I really appreciate it!